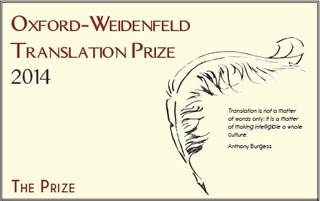 Color me chuffed: Jean Ferry's The Conductor and Other Tales is the little book that could, racking up a second major award nomination after the recent shortlisting for the French-American Foundation Translation Prize. From the press release:
The Oxford–Weidenfeld Prize is for book-length literary translations into English from any living European language. This year's shortlist includes eight books instead of the usual six – in recognition of the high quality of this year's translations and the large number of entries (151). Formal experimentation and reflections on recent European history are prominent in the shortlist this year. This year's judges are the academics and writers Jonathan Katz, Adriana Jacobs, Patrick McGuinness and Matthew Reynolds (Chair).
Last year's winner was Philip Boehm for his work on Herta Müller's The Hunger Angel. I am amazed to find myself up against Anthea Bell, who has long been a personal inspiration to me for her work on Sebald's Austerlitz as well as Astérix and Obélix. Among the authors: 2 Germans, 3 French, 1 Italian, 1 Russian, 1 Polish, only 1 woman. Among the translators: what looks like an even UK-US and male-female split. 3 novels (one with verse), 3 poetry collections, 2 story collections (one quasi-autobiographical). A very good year for small presses on both sides of the pond. Full shortlist below, from the press release:
THE SHORTLIST
Anthea Bell for Eugen Ruge's In Times of Fading Light (Faber): An adept, subtle translation of a novel which explores political history and inter-generational conflict with great seriousness and flashes  of humour.
Isabel Fargo Cole for Franz Fühmann's The Jew Car (Seagull Books): A fluent and compelling translation of a powerful account of the forming of political views and prejudices.
Susan Wicks for Valérie Rouzeau's Talking Vrouz (Arc publications): These translations of Rouzeau's idiosyncratic French are exact, inventive and full of life.
David Homel for Dany Laferrière's The Enigma of the Return (MacLehose Press): A lyrical, resourceful and tonally perfect rendition of a novel which mixes verse and prose.
Peter Daniels for Vladislav Khodasevich's Selected Poems (Angel Classics): Subtle, skilled translations of the haunting verse of an early-C20th Russian poet.
Alastair McEwen for Andrea Bajani's Every Promise (Maclehose Press): A deeply convincing rendering of this recent novel of recollection, disjunction and loss.
Edward Gauvin for Jean Ferry's The Conductor and Other Tales (Wakefield Press): A poetic, clear and well-pitched translation of this startling surrealist work from 1950.
Mira Rosenthal for Tomasz Różycki, Colonies (Zephyr Press): Virtuosic translations of a moving Polish sonnet sequence about place and the past.
Shortlisted translators will be invited to read from their work, and the winner will be announced, at the prizegiving and dinner at St Anne's College Oxford on Saturday 14th June. This will be the crowning event of the first ever Oxford Translation Day (13th-14th June) which boasts a varied programme of talks, workshops and readings.